Welcome to Global Maritime Security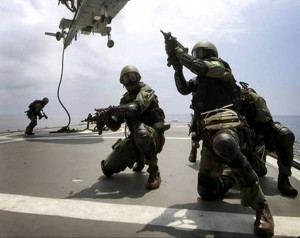 Global Maritime Security Inc is the regions premier maritime security provider, and a world leader in anti-piracy and counter-terrorism.
We are prepared to handle your immediate security needs including Anti-Piracy Maritime Security Solutions, Man Made and Natural Disaster Recovery Security Services, and Maritime Protective Services.
Global Maritime Security is engaged in the business of maritime security, providing escort and guard services to the marine industry on a worldwide basis. Our staff is highly experienced in security operations, escort repatriation of illegal aliens, U.S. Immigration procedure and Consulate requirements. We have personal available 24 hours a day, 7 days a week.
Global Maritime Security is called upon by local steamship agents, law firms, and P&I correspondents to meet stowaways on arrival, escort from vessels and maintain custody until repatriation is complete.
We can also arrange travel itinerary and follow through and escorted repatriation to any country. We are licensed and can cover any port from Texas to Florida.